Top Young Historians Archive
BASIC FACTS
Teaching Position: Professor of History, Brandeis University
Research Associate, Davis Center for Russian and Eurasian Studies, Harvard University, 2001-.
Area of Research: Russia in American life, including politics, culture, and foreign policy.
Education: Ph.D. University of California-Berkeley, 1998
Major Publications: Engerman is the author of Know Your Enemy: The Rise and Fall of America's Soviet Experts. Oxford University Press, 2009. Modernization from the Other Shore: American Intellectuals and the Romance of Russian Development. Harvard University Press, 2003. Stuart L. Bernath Book Prize, Society for Historians of American Foreign Relations; Akira Iriye International History Book Award; One of best six books of the year in Eurasian Studies, Foreign Affairs; Choice Outstanding Academic Title.

Engerman is the co-editor and contributor of Staging Growth: Modernization, Development, and the Global Cold War. University of Massachusetts Press, 2003, and The God That Failed: Six Studies of Communism. Columbia University Press, 2001. (Wrote foreword).
Engerman is also the author of numerous scholarly journal articles, book chapters and reviews including among others:
"The Price of Success: Economic Development, Sovietology, and the Costs of Interdisciplinarity," History of Political Economy 42 (forthcoming 2010);"Social Science in the Cold War," Isis 101:2 (June 2010), 393-400;"Ideology and the Origins of the Cold War, 1917-1962," for Cambridge History of the Cold War. Ed. Melvyn P. Leffler and Odd Arne Westad. Cambridge: Cambridge University Press, 2010;"The Cold War," for Companion to Russian and Soviet History. Ed. Abbott Gleason. Oxford: Wiley-Blackwell, 2009;"Towards a Global History of Modernization," Diplomatic History 33:3 (June 2009), 375-385; co-author with Corinna Unger. (Also co-editor of Forum in which this article appears.);"American Knowledge and Global Power," Diplomatic History 31:4 (September 2007), 599-622;"How Harvard Ruled Russia," Kritika 7:3 (Summer 2006), 689-702;"John Dewey and the Soviet Union: When Pragmatism Meets Revolution," Modern Intellectual History 3:1 (April 2006), 33-63;"The Ironies of the Iron Curtain: The Cold War and the Development of Russian Studies in the United States," Cahiers du Monde russe 45:3/4 (July/December 2004), 465-496, reprinted in The Humanities and the Dynamics of Inclusion, 1945-1985. Ed. David Hollinger. Johns Hopkins University Press, 2006;"The Romance of Economic Development and New Histories of the Cold War," Diplomatic History 28:1 (January 2004), 23-54;"Rethinking Cold War Universities," Journal of Cold War Studies 5:3 (Summer 2003), 80-95."Modernization from the Other Shore: American Observers and the Costs of Soviet Economic Development," American Historical Review 105:2 (April 2000), 383-416, reprinted in Not Worthy: Walter Duranty's Pulitzer Prize. Ed. L. Luciuk. Toronto: Kashtan Press, 2004, translated and reprinted in 200 let rossiisko- amerikanskikh otnoshenii: nauka i obrazovanie. Ed. A.O. Chubar'ian and Blair Ruble. Moscow: OLMA, 2007, slated for reprint in Collective Degradation, ed. John Stauffer (Yale UP, in process)

Awards: Engerman is the recipient of numerous awards and fellowships including among others:
Frederick Burkhardt Fellowship, American Council of Learned Societies (2010);
National Endowment for the Humanities Fellowship (2006);
Named Stuart L. Bernath Lecturer, Society for Historians of American Foreign Relations (2005);
Outstanding Academic Title for 2004, Choice Magazine (2005);
Akira Iriye International History Book Award (2004);
Scholarly Fellowship, Gilder-Lehrman Institute of American History, (2004);
Research Grant, Rockefeller Archive Center (2004);
Scholarly Fellowship, Gilder-Lehrman Institute for American History (2004);
Short-Term Research Scholarship, Kennan Institute for Advanced Russian Studies (2004);
Stuart Bernath Book Prize, Soviety for Historians of American Foreign Relations (2004);
Radcliffe Institute Fellowship (2003 - 2004);
Visiting Scholar, American Academy of Arts and Sciences (declined) (2003 - 2004);
Charles Warren Center Fellowship, Harvard University (2000 - 2001);
Research Associate, Davis Center for Russian and Eurasian Studies, Harvard University (2000 - 2007);
Olin Postdoctoral Fellowship (declined) (1999 - 2001);
Dissertation Write-Up Fellowship, Mellon Foundation (1997 - 1998);
John L. Simpson Fellowship in Comparative Studies, Institute for International Studies (1997 - 1998);
Outstanding Graduate Student Instructor, Berkeley Graduate Division (1997);
Winant Fellow, Franklin D. Roosevelt Presidential Library (1995);
Packard Fellow, Herbert Hoover Presidential Library (1994).
Additional Info:
Formerly: Visiting Scholar, Davis Center for Russian and Eurasian Studies, Harvard University, 2007-2008; Chair, Graduate Program in History, Brandeis University, 2001-2003, 2009-10; Chair, International and Global Studies Program, Brandeis University, 2005-2007; Assistant Professor of History, Brandeis University, 1999-2005; Fellow, Radcliffe Institute for Advanced Study, Harvard University, 2003-2004; Fellow, Charles Warren Center for the Study of American History, Harvard University, 2000-2001; Lecturer in History, University of California-Berkeley, 1998-1999.

PERSONAL ANECDOTE
A bonus for historians studying the twentieth century is the chance to meet your historical subjects. I was lucky enough to meet George F. Kennan, a man who featured in both of my books.
I met Kennan as he approached his 97th birthday in winter 2001. I had been thinking a lot about him for the previous five years, ever since I had run across a 1932 memorandum by Kennan while reading through State Department microfilms in a desolate corner of the Berkeley library. Kennan's memo must have arrived at State Department headquarters on a bad day for filing clerks. His astute analysis of the Soviets' all-out push for industrialization was misfiled among travelers' reports, an error that explained why this remarkable document had never been cited in the large scholarly output on Kennan.
Kennan's memo contained a striking phrase:"the romance of economic development," which, he had written, inspired Soviet youth"to ignore all other questions in favor of economic progress." In language revealing as much about the writer as his subject, Kennan praised that romance for saving Soviet youth from the" curses of egotism, romanticism, daydreaming, introspection and perplexity" that befell their western counterparts. I loved Kennan's elegant prose, and also the way his description fit western observers, not just Soviet youth. Some American observers explained away a famine by saying the USSR was"starving itself great"; others were so compelled by Soviet industrialization that they trotted out the old canard about breaking eggs to make an omelet.
As I began revising my dissertation into a book a few years later, I wrote Kennan, attaching a copy of his 1932 memo and asking if he remembered anything about the sources for his ideas. A speedy reply from his secretary implied that Kennan was unavailable to assist other scholars' work while he had so many pressing projects of his own. The following year, I resent my inquiry through a colleague of Kennan's who had offered to act as intermediary. Kennan's urgent letter (and two phone messages) came just as quickly as his earlier rebuff. He wrote me that he had no recollection of the document (then nearly 70 years old), and then requested whatever contextual material I could provide. I worked up the nerve to ask if I might deliver the documents in person - and a week later I rang the doorbell at his stately but slightly run-down Princeton home. His physical frailty limited our time to an hour, but his intellectual acuity was very much present as we spoke about his training in Russian history and his experiences in the USSR. Kennan recounted the lessons he learned at the University of Berlin in 1929-31; his professors stressed study of the Realien of geography, national character, and national interests rather than epiphenomena like governments and ideologies. This helped me understand Kennan's views of the USSR and of the world, and why he was, in his words,"an expatriate in his own time." The conversation deepened my fascination with Kennan, a familiar enough infatuation among diplomatic historians. I overcame my awe just long enough to ask his wife to photograph us in our conversation.
I would have a chance to meet some of my other historical subjects, especially as I wrote about Kennan's heirs, Soviet experts of the Cold War. These interviews were all fascinating. I learned about their scholarly inspirations, their political investigations, and their experiences visiting a country so different and distant from their own. I even learned about a number of romances and the scandals that often ensued - but none matched the opportunity to learn about the"romance of economic development" from the man who coined the phrase.
QUOTES
By David Engerman
The history of Soviet Studies offers contradictory lessons about the relationship between national security and intellectual life. The field was an intellectual success when government funds flowed because it attracted an
especially wide range of scholars and because its founders conceived of their aims very broadly. Scholars-cum- consultants innocently but fervently believed that the various parts of their job fit together seamlessly. They worked with government officials at the same time that they produced their own scholarship and trained their academic progeny. Seams strained and innocence ended in the 1960s, leading some later scholars to denigrate the field solely on the basis of its ties to government. Amid the dual crises of the late 1960s, pioneers ... hoped to reinvigorate Soviet Studies by returning to interdisciplinary and applied research that had driven top-notch work in the field's first decade. Yet the successes of Soviet Studies came thanks to unrepeatable historical circumstances: the intellectual mobilization during World War II, the postwar university boom, and the emergence of new sources of funding. These broad forces permitted Soviet Studies to serve both Mars and Minerva, or at least to try. There [is] no way ... to go back to the future. There was no way, after the divisions of the 1960s, to recapture the innocence of the postwar years, the notion that government agencies could only support, not distort, intellectual life. Coming from the small and isolated policy-oriented sector of Soviet Studies, secretaries [Robert] Gates and [Condoleezza] Rice celebrated themselves in claiming that new [government] initiatives incorporated the lessons of Soviet Studies. But new enemies, in new times, require new solutions. -- David Engerman in"Know Your Enemy: The Rise and Fall of America's Soviet Experts"
The specter of Soviet Communism haunting [the twentieth] century was as much a blueprint for rapid industrialization as an ideology of proletarian revolution, national liberation, or totalitarian control. At the same time, the Soviet specter often bore little resemblance to actually existing circumstances in the Soviet Union itself. In spite of the tremendous costs, including a catastrophic famine in 1932-1933, domestic and foreign commentators widely praised Soviet efforts at economic modernization, especially in the early years of the Five-Year Plans (1928-1937). What American diplomat George F. Kennan termed the"romance of economic development" captivated a wide range of foreign observers of all political persuasions. These interwar observers valued the fruits of rapid industrialization above its costs-even when these costs included not only repression and privation but also starvation. -- David Engerman in"Modernization from the Other Shore: American Observers and the Costs of Soviet Economic Development," AHR (2000).
About David Engerman
"The extraordinary range and depth of Engerman's research and the narrative arc knitting this book together from start to finish make Know Your Enemy a consummate work of scholarship and historical imagination. Engerman's critical assessment of all the diverse components within academic 'Sovietology' shatters one cliche after another. Soviet Studies never fashioned a single Cold War vision of the USSR and never served simply as an ideological arm of U.S. foreign policy-even when scholars were most closely linked with diplomatic and military operatives." -- Howard Brick, University of Michigan
"Those in and out of the field of Soviet Studies will find genuine revelations in Know Your Enemy . Engerman combines thorough research with a firm footing in the sociology of knowledge of the post-World War II world in this remarkable story of the U.S.'s most successful area studies enterprise. The author sensibly and dispassionately navigates the reader through the maelstrom of conflicts and controversies that beset the field and is practitioners from the Second World War until the fall of the Soviet Union." -- Norman M. Naimark, Stanford University
"Looking at both people and institutions, David Engerman has written the most complete and informative account of the rise and fall of Russian/Soviet studies. Sovietology arose out of world war and Cold War, but Engerman demonstrates that rather than simply ideologically driven, this scholarly field contained a variety of voices that contested with one another to influence colleagues, the government, and the public. The fate of the field, however, was intimately tied to the global conflict with America's adversary, and when Soviet socialism collapsed, Sovietology disappeared along with it. Yet the contours of understanding a distant and little known rival continue to influence new generations still perplexed by that part of the world." -- Ronald Grigor Suny, author of The Soviet Experiment
"In his excellent history of Cold War Sovietology, which is solidly grounded in interviews and more than 100 archival collections, David Engerman has fashioned an important institutional and intellectual history of its academic dimensions. This clearly argued, fair-minded, and very illuminating volume reveals more interesting individuals and a more complicated story (as archives always do) than the oft repeated commonplaces about this history have revealed."--Thomas Bender, author of A Nation Among Nations: America's Place in World History
"[D]eeply researched new book." -- Evan R. Goldstein, The Chronicle Review
"[E]ngrossing." -- Wall Street Journal
"[F]ascinating history." -- Robert Legvold, Foreign Affairs
"Deeply researched, well-written, this is an important chronicle that explains much about how government and academia still interact, and it should be read not just by Russophiles, but by anyone interested in new academic initiatives to focus on 'Islamic Studies.'" -- Paul E. Richardson, Russian Life
"Engerman is very passionate and energetic in the classroom, and very respectful of student ideas. His lesson plans are always innovative and intriguing, as well."...
"he's so creative with his use of materials, like using music, video, photos in his lectures to get a deeper understanding of a time period than one can get from books alone. he looks at history as a set of paradoxes, very interesting way to think about it" - -- Anonymous Students
---
Sunday, November 28, 2010 - 23:05
---
Basic Facts
Teaching Position: Assistant Professor of History, University of North Texas, 2009-
Area of Research: African-American history, civil rights movement in Arkansas, African-American foodways I specialize in the history of African-Americans in the South since the Civil War. My specific areas of interest and expertise include southern autobiography, the life and times of Richard Wright, the civil rights movement in Arkansas, and American food history.
Education: Ph.D. Afro-American Studies from the University of Massachusetts, 2004
Major Publications: Jensen Wallach is the author of Richard Wright: From Black Boy to World Citizen, Ivan R. Dee Library of African-American Biography, John David Smith general editor 2010; Closer to the Truth than Any Fact: Memoir, Memory, and Jim Crow, University of Georgia Press (Paperback edition released in 2010) 2008.

Jensen Wallach is the editor with John A. Kirk of Arsnick: The Student Nonviolent Coordinating Committee in Arkansas, 1962-1967, University of Arkansas Press Expected publication Spring 2011.
Jensen Wallach is also the author of numerous scholarly journal articles, book chapters and reviews including among others:
"Introduction," Deep South: A Social Anthropological Study of Caste and Class by Allison Davis, Burleigh Gardner, Mary Gardner, reprint for the Southern Classics Series, University of South Carolina Press, Mark M. Smith and Peggy G. Hargis general editors, 2009;"Replicating History in a Bad Way?: White Activists and Black Power in SNCC's Arkansas Project" Arkansas Historical Quarterly Fall 2008;"Building a Bridge of Words: The Literary Autobiography as Historical Source Material" Biography Summer 2006;"Fawn Brodie and the Struggle for the Historical Memory of Thomas Jefferson" Clio's Psyche, June 2006;"The Vindication of Fawn Brodie" The Massachusetts Review, Summer 2002
She has written reviews for the following scholarly journals: Arkansas Historical Quarterly, Reviews in American History, Arkansas Review: A Journal of Delta Studies, Journal of Social History, Journal of Southern History, Women's Historical Review, Ethnic Studies Review.
Jensen Wallach is currently working on a book under contract, tentively entitled: The American Stomach: Foodways and Identity from the Colonial Era to the Present, Rowman Littlefield, Manuscript due Jan. 2012.
Awards: Jensen Wallach is the recipient of numerous awards and fellowships including among others:
UNT Junior Faculty Summer Research Fellowship 2010;
UNT Faculty Small Grant 2010;
Closer to the Truth than Any Fact named a Choice Outstanding Academic Title, 2008;
Georgia College & State University, Faculty Research Grants, 2006, 2007, 2008;
American Association of University Women, American Dissertation Fellow, 2002-2003.
Additional Info:
Formerly Assistant Professor of History Georgia College & State University, 2006-2009, and Visiting Assistant Professor of History, Stonehill College.
Personal Anecdote
"Dear Bill,
I have spent much of the holidays editing the memoirs and oral histories that will become a part of the forthcoming collection of material about the SNCC Arkansas Project. Given our space constraints, I have made suggestions about what material we might possibly be able to omit.
I have agonized over this process of editing. Although, it is necessary to shorten your piece-it need not be shortened in the way that I have suggested. If I have omitted something you think is vital, changed your meaning, or inadvertently altered your narrative style, please respond with a different suggestion about what should be excluded and included. The last thing I want to do is to impede your ability to tell your story in your own way..."
Being an historian sometimes means writing letters like this one. Those of us who work on twentieth century historical topics often have the privilege and the dilemma of writing the histories of individuals who are still living. Although the historian's task is always accompanied by the grave responsibility of striving to be fair to one's historical subjects, this duty takes on a different resonance when writing about historical moments that are very much still alive in the memories of the people who participated in them.
This past year, I have had the opportunity to work on one of the most important and one of the most difficult projects so far in my career. Along with John A. Kirk, I have had the privilege of compiling a book of materials about the activities of the 1960's civil rights group the Student Nonviolent Coordinating Committee (SNCC) in Arkansas. Although much has been written about the activities of this organization elsewhere in the South (particularly in Mississippi), their work in Arkansas has been understudied if not nearly forgotten by historians of the movement. In order to begin to fill this gap in the literature, John and I put together a collection of articles by historians, primary documents, oral histories, and short memoirs written by members and supporters of SNCC in Arkansas.
I had the unenviable task of whittling down the contributions we solicited from SNCC participants into a size that could fit into the 300 page book envisioned by our sympathetic editor at the University of Arkansas Press. Perhaps more than at any other time in my career I felt a heightened awareness of the seriousness of the historian's task. Collectively historians who document the civil rights struggle are striving to rescue worthy individuals from historical obscurity and challenge simplistic historical narratives of the past embraced by politicians and others to meet present day needs. This book is part of an attempt to wrest control of the legacy of the civil rights movement from those who would reduce that variegated grassroots struggle to a single, often misinterpreted speech given by Martin Luther King, Jr. in 1963.
As important as this task was, I wondered if it was accompanied by a certain amount of hubris on my part. Who was I to strike out details and descriptions written by people who made the history that I was attempting to tell from the comfort of my living room? Who was I to say what should stay or what should go in the name of something as constructed and arbitrary as"space constraints"? In slashing passages and omitting specific memories, to what extent was I shaping this collection rather than allowing these history makers the opportunity to tell their own stories?
When I have these doubts and hesitations, I console myself with the idea that an inevitably imperfect retelling of the past is infinitely preferable to leaving these histories dormant and unknown. For me the process of historical interpretation is and must be a process of constant self-interrogation and continual reexamination of methods and motivations. For, as David Blight reminds us, our work has implications that go far beyond the so-called Ivory tower as we engage in the study"of contested truths, of moments, events, or even texts in history that thresh out rival versions of the past which are in turn put to battle in the present."
Quotes
By Jennifer Jensen Wallach
"[T]here are certain aspects of historical reality than can best be captured by artfully wrought literary memoirs. Skillful autobiographers are uniquely equipped to describe the entire universe as it appeared from an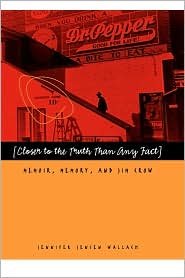 acknowledged perspective. Skillfully executed life writing has the ability to portray the complicated interplay between the thoughts and emotions of an historical actor. Furthermore, autobiographers intermingle historical data about what actually happened with reflections about what the author wishes had happened or imagined had happened. A full-fledged understanding of a particular historical moment must capture the complexities of the cognitive and the affective, the factual and the imaginary, perceptions and misperceptions. These elements are constitutive of a complex historical reality, which exists from the perspectives of the people who inhabited a past social world. The thought and feelings of historical agents are not responses to a preexisting social reality. Rather they are reality. If we are to come to a deep understanding of a historical moment, then we must endeavor to understand the individual experiences that constituted it...." -- Jennifer Jensen Wallach in"Closer to Truth Than Any Fact: Memoir, Memory, and Jim Crow" (2008)
About Jennifer Jensen Wallach
Wallach's biography of Richard Wright, to be published on the 50th anniversary of his death, gracefully traces and celebrates the writer™s rise from his hardscrabble Mississippi roots (unforgettably portrayed in Black Boy), his development of and dedication to his craft, and his physical and political peregrinations--to New York and left-wing circles, and later to Paris and the existentialists. Wallach's book is thorough and almost pedagogical in its purposes; she excels at the lively anecdote and doesn™t shy away from her subject™s less savory aspects--his affairs and homophobia. But what™s absent is any trace of Wright™s voice as well as more perspective from his peers, readers, or critics to round out and provide depth and analysis to this study. This able biography summarizes where it should probe, and skates too smoothly over the conflicts and controversies that surrounded the man, who in his pursuit of freedom and unvarnished truth crossed racial lines, went into self-exile, and embraced the harshest social realism. -- Publishers Weekly
"A quietly but uncommonly ambitious work . . . Wallach's review of the theoretical literature on autobiography is refreshingly lucid and cogent. . . . I look forward to periodically rereading it and wrestling with its conclusions." -- W. Fitzhugh Brundage, Journal of American History
"Wallach's lucidly written essay offers much food for thought, both for scholars of history and life writing and for general readers trying to recapture the flavor of the past." -- Jeremy Popkin, Journal of Interdisciplinary History
"Historians and particularly history students will find many valuable insights in this book. Wallach lays out a theoretical framework for understanding memoirs as source material and then does an excellent job of putting that theory into practice." -- Steve Estes, author of I am a Man: Race, Manhood, and the Civil Rights Movement
"Wallach's interdisciplinary training allows her to demonstrate how attention to language, symbolism, allegory, and other literary devices can uncover more historically relevant content in a memoir than a mere surface reading would allow. This is a well-written and well-argued response to a single question: How should historians handle literary memoirs as historical sources?" -- Jennifer Ritterhouse, author of Growing Up Jim Crow: How Black and White Southern Children Learned Race
---
Sunday, November 14, 2010 - 22:14
---