Editor's Desk
The Editor's Desk is where HNN editor David Walsh fields questions, comments, and concerns from HNN readers, along with editorializing and commentary of his own.
To reach David, email him at editor@hnn.us or contact him on Twitter at @myHNN.
---
Wednesday, June 13, 2012 - 13:21
History, as Painted by Video Games
I had been looking for a light and frothy topic with which to kickstart (which is to say restart) this blog, and I found it in the story making the rounds online today about a person who started a game of Civilization II ten years ago -- and just kept playing.
Posting on Reddit, user Lycerius describes his version of the future:
The world is a hellish nightmare of suffering and devastation.
There are 3 remaining super nations in the year 3991 A.D, each competing for the scant resources left on the planet after dozens of nuclear wars have rendered vast swaths of the world uninhabitable wastelands.
The ice caps have melted over 20 times (somehow) due primarily to the many nuclear wars. As a result, every inch of land in the world that isn't a mountain is inundated swamp land, useless to farming. Most of which is irradiated anyway.
As a result, big cities are a thing of the distant past. Roughly 90% of the worlds population (at it's peak 2000 years ago) has died either from nuclear annihilation or famine caused by the global warming that has left absolutely zero arable land to farm. Engineers (late game worker units) are always busy continuously building roads so that new armies can reach the front lines. Roads that are destroyed the very next turn when the enemy goes. So there isn't any time to clear swamps or clean up the nuclear fallout.
Only 3 super massive nations are left. The Celts (me), The Vikings, And the Americans. Between the three of us, we have conquered all the other nations that have ever existed and assimilated them into our respective empires.
Now, a couple of thoughts.
1) Yes, I know all the tech and politics writers are being light and frothy themselves over this, but it does need to be said that the headline "10-year-long game predicts grim future for humanity" is overstating the case somewhat. It's a video game, after all, and not a particularly new one at that (Civ fanatics may mock me for saying this, but I've always thought Civ4 was the best and most nuanced of the series, particularly when modded out).
2) It is amazing how closely this dystopian future resembles George Orwell's Nineteen Eighty-Four.
3) The Atlantic's Alexis Madrigal had the best take on why this story went viral, aside from the man-bites-dog nature of it:
When I was a kid, it felt like some expansive History of All Time, except that it was a turn-based computer strategy computer game. Which is why a 10-year game of Civilization II has struck a chord around the Internet today: if you could learn a history of western civ from the game, then its vision of the future feels oddly significant.
This is something I don't think most historians -- who do tend to be men and women of a certain age, as the saying goings -- fully understand: a large amount of the general historical knowledge their students -- and young people in general -- have comes not from movies and TV but from video games. And, especially among the educated, that knowledge comes from increasingly sophisticated strategy games like Civilization, which has in subsequent installments included religious and corporate aspects to the game; the Total War series, a unique blend of war, grand strategy, and economics which has covered ancient Rome, medieval Europe, shogunate Japan, eighteen-century colonial wars, and Napoleon; Crusader Kings, similar in respects to the Total War series but more focused on political intrigue; and the Victoria/Hearts of Iron series, the former an economic strategy game set in, you guessed it, the Victorian era and the latter a WWII grand strategy "simulator."
Many were the nights I spent in my dorm room playing these games with friends. To some, the games were their first introduction to history in any meaningful sense, and unlike their history classes in high school, this stuff actually engaged them and made them want to learn more. They actually wanted to talk about history from those of us who were history nerds. And among us nerds -- who included one or two (young) PhD students, the games gave us a dose of historical fantasy that was a welcome compliment -- not a respite, a compliment -- to the classroom. (The Civ II guy, incidentally, took his user name from St. Lycerius, an early French bishop. I'm guessing he -- or she -- went to college.)
Most video games, at least those for PCs, have a community of modders, who make alterations to the standard commercial copy and make them available online (you still need to buy the game for the mod to work, though). Most of the time, the mods are relatively minor, but there are occasionally "total conversions" that take the basic game mechanics and game engine in a completely new direction. Amazingly, a few mods have been conceived to correct historical inaccuracies in video games. The best example of this is the user-generated mod for Rome: Total War, Europa Barbarorum, which bills itself as "dedicated to providing an entertaining, historically accurate gaming experience."
First, a little background. The commercial release of Rome: Total War allows the player to take control of one of the great Roman "houses" in the late Roman Republic -- Julii, Brutii, and Scipiones -- which each have their own cities, armies, and faction attributes. The goal is to eventually become emperor of Rome by conquering neighboring tribes and civilizations like the Gauls, the Egyptians, and the Germans, then attacking the other Roman houses and marching on the city itself. Naturally, the depiction of the late Republican Mediterranean world deviates quite a bit from the actual history. The Egyptians, in particular, are portrayed not as the Hellenistic kingdom of the Ptolemais, but as still governed by the Bronze Age pharaohs (whose Bronze Age armies nevertheless prove to be remarkably effective against Rome's legions).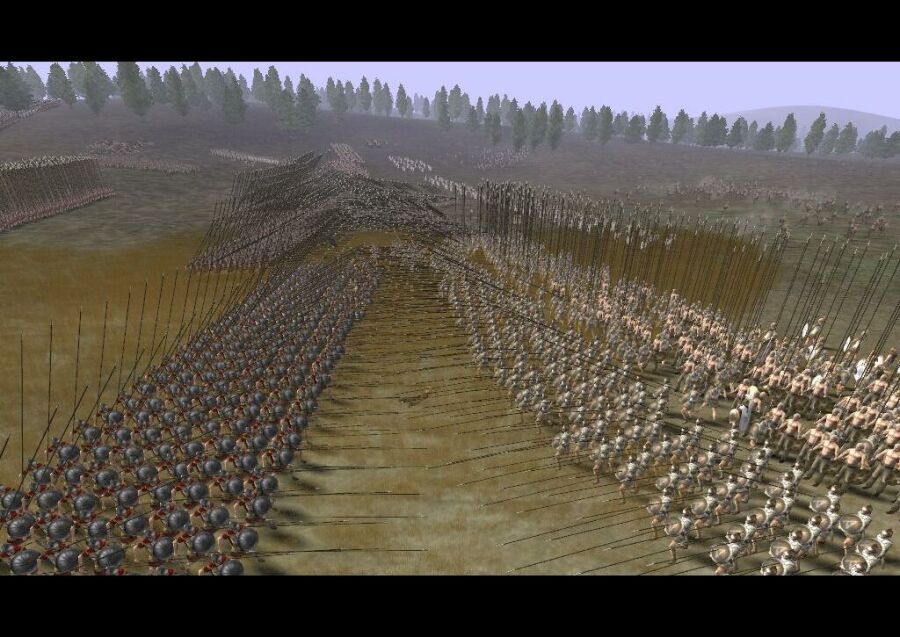 Screenshot from Europa Barbaroum simulating a battle over the Cappadocian city of Mazaka
Europa Barbarorum strips out the cartoonish aspects of the game and practically gives it the veneer of a PhD dissertation. Instead of Anglicized or Church Latin names of units, leaders, and provinces, the vernacular languages are used and many monolithic factions are divided (instead of Carthaginians, Karthadastim; the Gauls are split into the Arveni and the Aedui). Scripted events simulate the Marian and Augustian reforms of the Roman legions. The central role of religion in Roman and Carthaginian civic life is reflected by assigning certain cities and even certain characters specific gods that they follow -- from Jupiter to Ba'al. The mod's forum has an 11-page long thread on its bibliography.
Historians are frequently used as consultants on movies and TV Shows (ignored though they may be) -- how many have thought about expanding to video games? The video game industry was valued at $65 billion last year...
---
---